Custom Built Barges
Custom Built Barges
Joe Welch Companies, Inc. has created many custom built barges for government and private parties. Whether you need a sanitary pump-out barge, a ferryboat to carry cars across the river, or large vessels to carry products across the sea, we are there to help.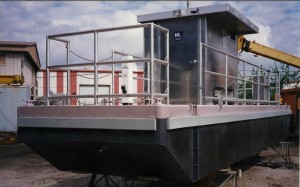 The Sanitary Pump-out Barge is designed as a convenient way for boaters to dispose of their waste. It is ideal for use in marinas, harbors, lakes, rivers, etc. It is designed to work in remote areas, using solar power and for dockside operations where shore power is accessible.
Custom Fabrication of Double Barge
When the Government or Private Enterprises has custom steel fabrication requirements, they come to Joe Welch. The above Steel Barge was built for MSI in Washington D.C. It was used to house a 3 story Office Building that floats. What made us win the project and stand apart from the rest was the quality standards implemented in our fabrication process and the ability to provide on-time delivery of custom built steel products. These products were made to withstand the tough nature of the job it will handle for decades in service.
You can see the progress of the project below.
The National Parks Service is another client of us which has custom metal fabrication requirements. We have been providing them with products that have lasted decades without much maintenance.
The ability to use the best cutting and welding technology available at the time along with superior workmanship made our products stand the test of time since 1968 when we started custom metal fabrication.
If you have custom Steel Fabrication and Custom Metal Fabrication requirements, give us a call. You can reach Joe Welch Companies at (504) 367-7327 or add them to your Google+ circles.